Letters From Germany
Köhler cousins (page 3)
1948 - 1950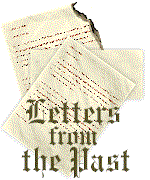 Letters sent by Franz and Auguste Köhler in Germany to August Maas in Walnut Grove, MN. Franz and August were first cousins.
See page one for additional information about these letters. [The accession numbers (A/N) are for reference and cataloging purposes.]
Aunt Block and Uncle Block are probably the last of the relatives; as I heard from Martha Buss that Uncle and Aunt Maas, your dear parents, have been dead for a long time, but that Anna, Emilie and Franz also died so early. Were Anna and Emilie also married and Franz? Mister Steffen sent us a CARE package last year. Is he from your relationship? Where does Karl live, does he also have children? We have a small room and get a pension. Everything is expensive here, so that only the rich are able to buy.

My brother Fritz now has been missing for 3 years, carried off to Russia; his wife lives with their son in Löbeck. He was a master blacksmith in Kl. Mellen, Kr. Dramburg, and had his own beautiful smithy. He probably is no longer living. Herbert Köhler, the son of my deceased brother Hermann, came back from Russian captivity. He lies in the hospital in Hamburg, has water (edema), like most of those coming from there. (He) is an auto mechanic, and has become 28 years old now.

So, the homeland is away and we wish we would be in the USA.

God protect and bless you.

Now you dear ones, thank you again with most hearty greetings.

from Auguste and Franz Köhler
Franz Koehler

Appen (District of) Pinneberg

(Germany) Hauptstr. 2

c/o Heinrich Pein

Dear Cousin and wife and children:

I received your address from my sister, Anne, and I am delighted that you are doing fine; we enjoyed very much your family photo with the good-looking children which Anne showed to us. You look very similar to your father, as I can remember him, when he counted his gold coins in Braunsforth and moved to America. You should be grateful to your dear parents that they moved to the USA and did not have to experience these difficult years here in Germany. Too bad that my parents were not able to make the same decision. Many committed suicide, so did two cousins hang themselves together with their husbands and children in the forest in Mecklenburg -- also descendants of Koehler from Steinhoefel. (The) Great-grandfathers were brothers. We fared very badly because we, here in Stettin, (first of all) had to suffer much from the bombing raids, and then when we fled all the way to Mecklenburg, since Stettin was supposed to become an independent state. We were robbed of everything there and, without any consideration for our age, we had to work hard, 11 hours every day, for potato soup and bread. Doing dismantling work, I had to climb a steep ladder and, since I can't see very well, I fell and got a hole in my shinbone (and) was unable to work; however, I no longer received anything to eat; so one had to look for potatoes and cabbage; my wife picked flowers and sold them to the Polish ...(illegible) families. We were chased from one apartment to the next, threatened with guns by burglars in civilian clothes and gotten out of bed -- that's the way it went day after day; in rags and kicked out, we arrived here. We are delighted and we thank you for searching for us and helping us out. As Anne writes and heard from sister Anna that your sister Berta and Anna and Franz have died too; but we hope Karl is still alive. Does Karl own a farm as well? Who is Gustav Steffen, who sent me a package (is he) also related to you and us? I can still see Karl in bed in Braunsforth, when he broke his leg, with a weight on his leg. On February 21, I turned 68 years old -- about the same age with Fritz and Karl; we were often together there. I was in the military from 1914-1920 in the war in Russia and had to live through difficult times; through God's help, I survived miraculously. After a long search through the Red Cross and the newspaper, I found Uncle Block's nephew, Willi Block from Pinneberg, in Mecklenburg and informed him. I would love to have a family photo of all of you and, if possible, (of) Karl, Anna and Berta Franz to remember (them). If possible, we must have a picture taken of us and then we will send one.

For now, we wish you happy Easter and Pentecost!

and all the best most of all health.

Good bye

from Auguste Koehler

Franz Koehler
Appen, Kreis Pinnebeg (British Zone)

Main Street 22 via Hamburg

Dear Relatives!

In the hopes that you all are well and that you are doing well in the USA, I must also direct a few lines to you. We are mostly healthy, we lack for everything, but it has gotten better, since we can now buy more herring, but otherwise there is still too little fat (lard?), 600 grams per month. Sister Berta in Döingen was very sick, but she is getting better, thank God, again. Wilhelm's two sons have gotten sheepherder jobs near Hannover and want to marry. Herbert Köhler, the car mechanic, was 5 years in the army and is back since ö year, is still under the doctor's care, since he still has edema, he has no parents and comes often to us.

Should you dear ones have old suits that you no longer wear, then please send us one, since one cannot afford the prices they charge for clothing in the stores. My brother Fritz is still not back from the army, the poor wife waits in Löbeck with their son Gönter, is he still alive? Who knows. Send us a picture of you two.

Now heartfelt greetings to you two and children, also to Karl, when you write to him,

Franz Köhler.

Karl is also already 70 years old, Fritz Buss too. I will be 70 next year.
Dear cousin August, dear relatives and wife and children,

I thank you many times for the beautiful CARE package, particularly my Auguste was overjoyed, now that she got again some Fett (lard?) etc., of which we get very little with food ration cards. You probably received my letter at that time, in which I communicated our fate about everything. It would make us very happy, if you also would write sometime about how life is there, how the dear children get along, and whether all daughters are well married, and the two sons, whom I have seen on your picture.

We have no children, my wife originates from Woltersdorf, is the daughter of shepherd Brietzke, also from our branch, as her mother, also neö Köhler from great grandfatherös brother.

A sad death also occurred again among our relatives. Mrs. Stolz, the daughter of Brietzke (sister Berta) who was often with us as a child, died in Duingen. Auguste worries much, we couldnöt attend the funeral ceremony, since the journey is so expensive, and we live so far away. A 9-year-old girl is left behind, it is particularly hard for the old people, if he (the father) probably wants to marry again. Thus is life on this earth, just as God wants.

Dear August, dear wife and children!

Today we received the CARE package, and thank you all dear ones cordially, also sister Berta and Hermann Brietzke in Duingen asked to thank you cordially, since both are ill, and letter writing is difficult for them. They cried for joy, so did we, thanking God that you could help us with your charity. We hope now dear all, that you all keep well and fit, and may your dear children and grandchildren be spared from the threat of war by God and stay healthy with you.

Here it was very cold and we had a lot of snow, now we have thawing; much flu prevails, I was also ill, but thank goodness I always recovered soon. Life is hard for everyone, shortage of coal, in actual fact to secure waste wood for us is forbidden like everything. The local authorities do not know compassion. Itös more and more expensive. As refugees of the homeland we have to pay high rents from our pensions. Now we have got a better room, where we can place 2 beds, have scrimped and saved for a feather bed, which costs here 120 Marks (25 dollars); thank God that we can sleep warmly. To take everything away from someone is easy, but to procure it again is difficult.

Thus we thank you, dear all, very much and wish you this year all the best, above all health, peace on earth and pleasure for everyone.

Lith (?) put a fir branch on Karlös grave for us.

More later ! With cordial greetings to dear all.

Auguste (and) Franz Köhler

Herrman (and) Berta Brietzke