A detailed plot map (ca. 1945) showing residences in Henkenhagen, Kr. Kolberg-Körlin, Pomerania.
Maass families lived in Henkenhagen for at least four hundred years. Martin Maass, born about 1540, inherited his father's farm in Ziegenberg in 1573. Nine Maass families were living there during World War II and their residences are identified below. A complete list of all residents was found on Dirk Petrat's website. The village was also the home of three Noerenberg and six Mews families when this map was drawn. Martin Noerenberg and Sophia Mews, my 4th-great grandparents, lived in nearby Wendhagen in 1779.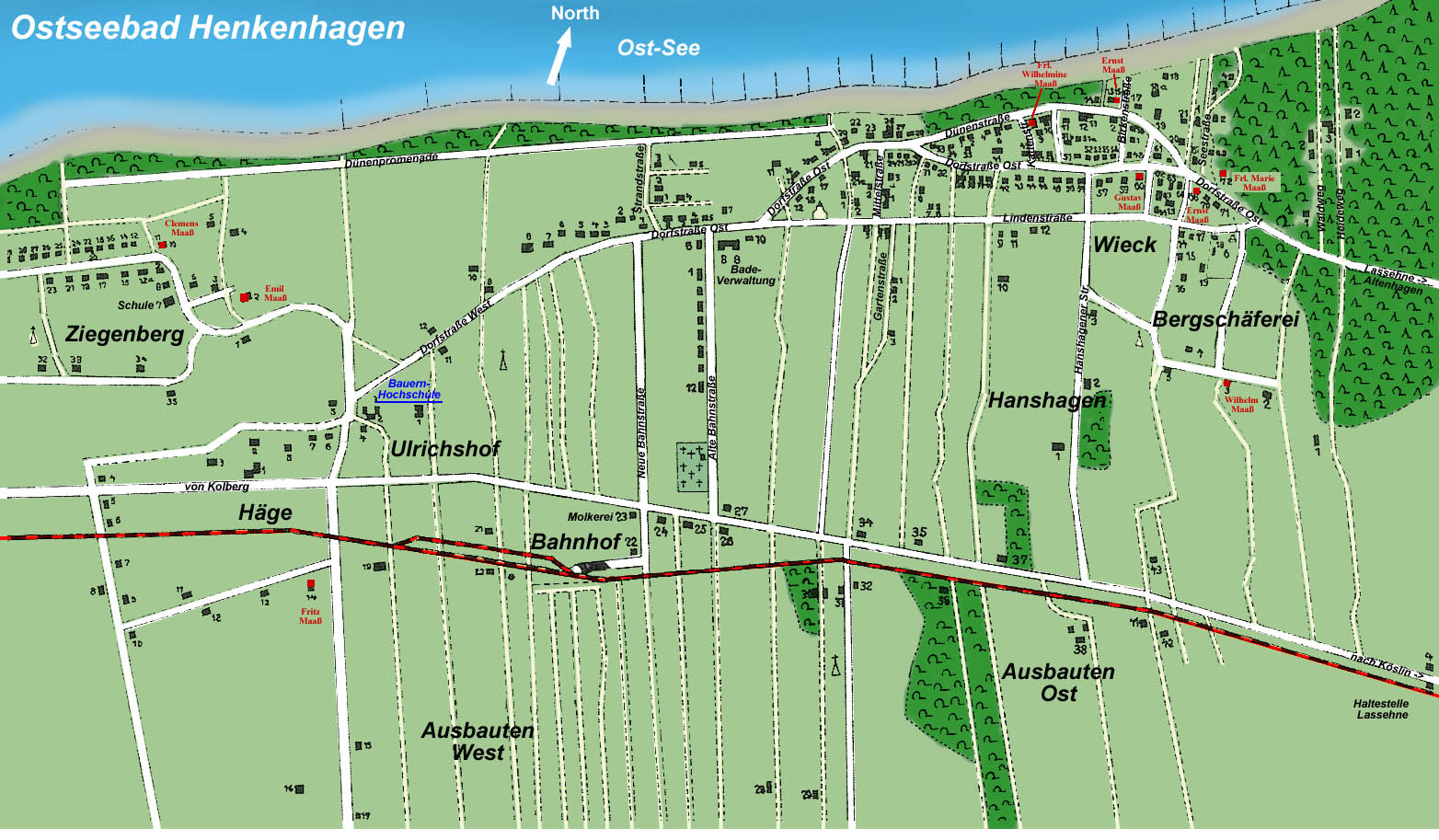 This map was adapted from an old postcard published in a book by Jerzy Patan [Ustronie Morskie. Na da wnych pocztowkach do 1945 roku - Henkenhagen auf alten Postkarten bis zum Jahre 1945. Kolobrzeg 2002]. It was kindly provided to me by Dr. Peter Gürge. His mother, Eleonore (Maaß) Gürge, also traces her ancestors to this village and their lineage was found on their website "Chronik der Familie Maaß". My thanks to Craig Maas for the enhancements to this map.
Key to Maass residents in 1937
Source: Das Kolberger Land. Seine Städte und Dörfer. Ein pommersches Heimatbuch. 1999. [The Kolberg LandBook] by Manfred Vollack
| | | | |
| --- | --- | --- | --- |
| | Erna Maaß, domestic servant | | Fritz Maaß (appears only on Dirk Petrat's list) |
| 35 | Frieda Maaß | 59 | |
| | Hermann Maaß, Journeyman tailor | | Bergschäferei |
| | Gustav Maaß, brick layer | | |
| | Gustav Maaß, brick layer | | |
| | Ernst Maaß, shoemaker | | |
| | Frl. Marie Maaß, house owner | | Reinhard Maaß, farmer |
| | | | |
| | | | |
| | | | |
| | | | Clemens Maaß, retired |
| | | | Elisabeth Maaß, domestic servant |
| | | | |
| | | | |
| | | | |
| | | | |
© - Gene Maas
rev. 8 Nov 2006