Tuesday, April 25 Suzhou
Feeling rested after a great night's sleep, I figured we could handle the optional full-day excursion to Suzhou, a 500-year-old city west of Shanghai in China's fabled silk region. A 40-minute train ride took us through the countryside and we arrived about mid morning. This is the city of silk, gardens, and canals that inspired Marco Polo. Suzhou – known as the Venice of the East - lies along the Grand Canal, a waterway that stretches 1100 miles from Beijing to Hangzhou, and intersects four major rivers flowing from the west to east. The Grand Canal, second only to the Great Wall as a Chinese engineering feat, was begun 2400 years ago. A bus took us from the train station to the water front where we boarded a boat to cruise the Grand Canal and some of the smaller back-alley canals among houses and shops. It is quite amazing to see how people live along these waterways.
The bus caught up with us again at the end of our one-way cruise and took us next to a silk factory where we learned and saw how silk is produced by mulberry-munching silkworms and how the thread is extracted and turned into fine cloth. At one time, Suzhou guarded the secrets of silk making so closely that smuggling silkworms out of the city was punishable by death.
This factory tour, like others, ended in the showroom where every conceivable silk product was on sale. We succumbed by buying a silk comforter for our king-sized bed.
Before heading back to Shanghai by bus, we visited one of Suzhou's famous gardens, Wangshi (Master of the Nets) Garden.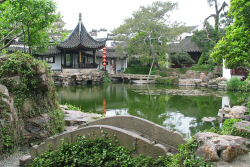 It is a beautiful small garden with charming pavilions, interesting rock formations and walkways surrounding a central pool. On our way back to the bus, we passed a man taking his bird out for a walk. Chinese people believe their pet birds need to experience nature and by carrying them outdoors in a cage, they have an opportunity to communicate with other birds.
On our last night in Shanghai, we were finally treated to a Western buffet dinner which included several western entrees in addition to the usual Chinese fare that we had been eating. A number of seafood dishes were also offered including raw oysters. Fortunately, neither Norma nor I like raw oysters, but many people do and those who consumed them paid a heavy price. During the next two days everyone who had eaten the oysters became very sick. We flew the next day from Shanghai to Wuhan to board our ship on the Yangtze River. The doctor on board the ship was kept very busy with cabin calls and administering IVs. Later we learned that his rates were much higher than what I paid in the Shanghai hospital. It only cost me 1781 RMB (about $225) for my hospital and doctor bill. (Can you imagine what that bill would have been in the US?) We heard others were paying over 2000 RMB just to see the doctor on the ship. The doctor clearly had a captive clientele and he was obviously taking full advantage of it. This is his ninth year aboard the ship. But I guess he was very good since everyone commented how much they liked him.